ECES and/or ECES members individually are contracted to contribute to training programmes funded and implemented by other projects, organisations or institutes such as:
BRIDGE Training for Civil Society Organisation in Kosovo: Pristina, 8 - 12 December 2014, the Organisation for Secuirty and Co-operation in Europe Mission in Kosovo has contracted ECES to deliver a 5 days BRIDGE training for Civil Societies Organization of Kosovo.
DIPLOCAT Election Observation Training: Barcelona, 13 - 17 October 2014,

the Public Diplomacy Council of Catalonia (DIPLOCAT) has teamed up with the European Centre for Electoral Support (ECES) and the Barcelona International Peace Resource Center (BIPRC), to design and conduct a DIPLOCAT Election Observation (DEO) training for citizens from Catalonia.

Conference "The Economic and Politic Transition in the Arab Countries of the EU Southern Neighborhood Area" (La transition politique et économique dans les pays arabes du voisinage Sud de l'UE): On 3 February 2014, ECES and the Egmont Royal Institute for International Relations organised this seminar in the framework of the work of the Research Group of the Institute for European Studies of Saint-Louis University. This year's seminar focused on the political and economic transition in the Arab countries of the EU Southern Neighborhood Area. Furthermore, Monica Frassoni, ECES president, brought her expertise on the role of EU election observation as a foreign policy tool for democratization.
Second General Assembly of the RECEF (Réseau des Compétences Electorales Francophones), Bamako, Mali, 21-23 January 2014. Eric Tourres - ECES vice president, Eva Palmans - ECES head of programmes and Camille Rouaud - ECES Coordinator of Programmes were invited to the general conference, followed by a two-day seminar "Consolidation and Professionalization of Electoral Management Bodies".
Conference "Developments in the countries of the Arab Spring: What political and economic progress can be expected? What is the role of the EU and its policies?". On 29 January 2013, Université Saint-Louis in Brussels and ECES organised this seminar at the Institute for European Studies at the Université Saint-Louis in Brussels with the aim of bringing together high-level experts to review developments in the Arab countries, in the aftermath of the Arab Spring. Raphael Pouyé, led a presentation on perspectives from the field, discussing lessons learned from civil society programmes for democratisation in Tunisia and Libya.
Workshop in contribution to the Institut des Hautes Etudes des Communications Sociales - Brussels (IHECS),

in March 2013 for the executive Master in European Journalism.

Debate on the recommendations of EU Election Observation Missions, in June 2012 the EU Parliament invited ECES, at its request, to participate in the debate. ECES, represented by the President of the Electoral Commission Burundi, illustrated how the recommendations of the EU Election Observation Missions are perceived by EMBs from Central Africa States.

BRIDGE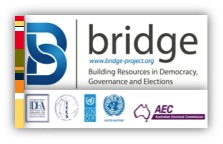 Several ECES staff members are also BRIDGE accrediting and accredited facilitators. Consequenlty, as capacity development component of its projects that ensures ownership and sustainability, ECES also delivers BRIDGE specific modules and BRIDGE Train the Facilitators (TtF) workshops though it externally hired BRIDGE experts.

BRIDGE stands for Building Resources in Democracy, Governance and Elections. It is a modular professional development program with a particular focus on electoral processes. BRIDGE represents a unique initiative where five leading organisations in the democracy and governance field, namely the Australian Electoral Commission (AEC), International IDEA, International Foundation for Electoral Systems (IFES), United Nations Development Programme (UNDP) and the United Nations Electoral Assistance Division (UNEAD), have jointly committed to develop, implement and maintain the most comprehensive curriculum and workshop package available, designed to be used as a tool within a broader capacity development framework.
BRIDGE has four main objectives:

To promote internationally accepted principles of democracy and good electoral practice
To enhance the skills and confidence of stakeholders in the electoral process
To increase the awareness of tools and resources available for the building and maintaining of a sustainable electoral culture
To develop a support network for stakeholders in electoral processes and encourage a culture of sharing information and experiences

The BRIDGE curriculum is a comprehensive professional development tool that endeavours to cover all aspects of the electoral process and its effective administration. It has been written by a large international team of experienced democracy professionals and includes major sections on stakeholders in the electoral process, underlying 24 themes such as integrity and gender, and in-depth exploration of complex issues relating to credibility, ethics and institutional culture. The curriculum concentrates on underlying principles for well-run elections while drawing on practical examples from around the world. It does not seek to prescribe any one model for implementing those principles, but rather encourages participants to learn from the diverse examples presented. Some modules focus on developing skills and concepts that are important to everyday election administration work, while others focus on exploring structural, ethical or social issues.
Each module includes examples of activities, literature, case studies, election materials and multimedia resources. It provides access to and draws from resources such as the ACE Electoral Knowledge Network, IDEA handbooks and manuals and literature from organisations such as the European Commission or the United Nations. It also offers access to regional and global electoral networks. The materials of the BRIDGE curriculum are designed for use in face to face workshops run by accredited BRIDGE facilitators using adult learning methodology.
For more information, please visit the dedicated website of BRIDGE.