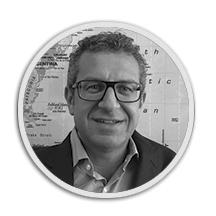 Nicola has extensive experience in the operational, contractual and financial management of different initiatives and programmes funded by the European Union.
He has been working with the European Union since 2000 both in Delegations (South Africa and Niger), as programme manager in the area of good governance and reform of public administration, and in the European Commission HQ, namely within the Service for Foreign Policy Instruments (FPI 3 – Common Foreign Security Policy operations - former DG RELEX A3). As programme manager within FPI 3 he was responsible for the administrative and financial management of two Common Security and Defence Policy operations: the European Union Police Mission in Bosnia and Herzegovina and EUJUST-Lex Iraq.
Nicola's professional experience within the EU CFSP/CSDP framework continued also on the ground, namely within the EU Co-ordinating Office for the Palestinian Police Support (EUPOLCOPPS) in Ramallah, where he was Head of Mission Support from 2011 to 2015. In this role he was coordinating the administrative functions of the Mission i.e.: Finance, Procurement, Logistics and Transportation, Human Resources, Information Technology and Communication, Software development.
During the last two years Nicola served as Head of Procurement sector in the EU Agency for the operational management of large scale IT systems in the area of freedom, security and justice (eu-LISA). This last post enhanced his expertise in the area of procurement and contractual management of very complex and high amount IT projects and systems (tender procedures and contracts up to 200 Millions euro).
Nicola has a Master's Degree in European economics (Université Libre de Bruxelles- ULB).