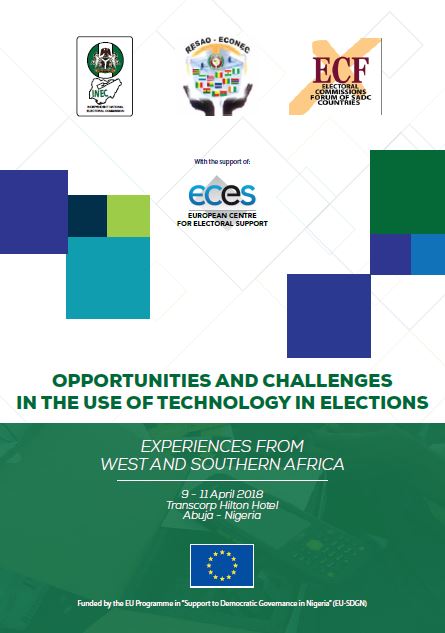 This note gives detailed information on Opportunities & Challenges in using technology in Southern and West Africa.
ECES proudly announces that the regional conference 'Opportunities and challenges in the use of technology in Elections, Experiences from Southern and West Africa' will take place at the Transcorp Hilton Hotel in Abuja, Nigeria, from 9 to 11 of April 2018.
The conference is organised within the context of the 1st Component of EU funded Programme in Support to Democratic Governance in Nigeria (EU-SDGN) implemented by ECES, which seeks to improve the overall quality of electoral administration in Nigeria.
The conference is organized by the Independent National Electoral Commission of Nigeria (INEC), the ECOWAS Network of Electoral Commissions (ECONEC), in collaboration with the Electoral Commissions Forum of SADC countries (ECF-SADC) and the technical and financial support of ECES within the EUSDGN Programme as mentioned above.
The event will focus on the different key issues for election administration when it comes to the use of technology in electoral processes. While the basic principles of elections have largely remained the same, the use of Information and Communication Technology in election management has witnessed an upsurge in the last two decades. Considering the growing adoption of technology worldwide, this high-level event will build and enhance the capacity of participants in the choice and usage of ICT in elections for strengthening the credibility, integrity and transparency of electoral processes in ECOWAS and SADC countries.
Within the context of ECES' partnership with the School of Sant'Anna of Advanced Studies (SSSA) aimed to promote innovative capacity building initiatives, and in preparation for this conference, it is offered and recommended that all participants - and/or to their colleagues that will not participate in this conference - enroll and complete the module on "Elections and Technology" of the only existing on-line "Master on Electoral Policy and Administration- MEPA".
ECES and SSSA collaborate to promote the activities of MEPA with the aim of promoting accessible and high-quality electoral knowledge. In this context, participants and the organizations they belong to will have the opportunity to deepen their understanding of the subject while having a knowledge dissemination tool to enhance the capacity of their staff beyond the context of the event.
In order to ensure rich exchanges on discussions from multiple perspectives and points of view, the conference will bring together EMB representatives, election management and electoral assistance experts, representatives of international organisations and the diplomatic community present in Nigeria.
The concept note of the conference will provide detailed information on EU-SDGN as well as on the topics that will be discussed at the event. Click on the following link to download the document: 'Opportunities and challenges in the use of technology in Elections, Experiences from Southern and West Africa'
Concept Note for the Election & Technology Conference - English Version
Concept Note for the Election & Technology Conference - French Version
Concept Note for the Election & Technology Conference - Portuguese Version