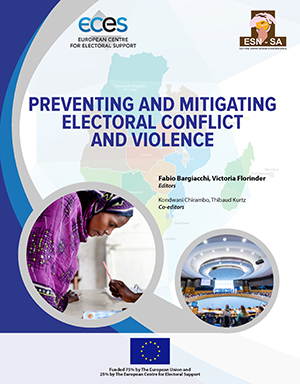 This handbook presents lessons and guidance on Preventing & Mitigating Electoral Conflict in SADC.
was coordinated and conceptualised by ECES together with the Election Support Network of Southern Africa and supported by many of its 16 members in the 14 countries comprised by the PEV SADC project.
The handbook was edited by its Executive Director, Fabio Bargiacchi and Senior Election Conflict Management Advisor, Victoria Florinder who has been the lead team members to implement the research and capacity building component of the PEV SADC project since its inception 2013.
The handbook was co-edited by Dr Kondwani Chirambo and Thibaud Kurtz. Dr Chirambo supported the peer reviewing tremendously during the first phase of developing the country case studies. He provided continuous summaries on the research progress, kept the various editions of the case studies coming in on time and provided guidance and technical inputs to support the authors in their work. The final stage of the handbook was supported by Thibaud Kurz who brought his regional experience to fine-tune the case studies and tie them together to make visible regional similarities and differences.

The main contributors of this handbook, namely the authors of the case studies, allowed this handbook to demonstrate the wealth of experience and academic excellence that the SADC region harbour. The handbook would not have been possible without the empirical material presented through the case studies, crafted by the PEV SADC researchers that at the same time constitute the core of the Reginal Conflict Prevention Observatory.
The authors, listed in no particular order, are Lee Habasonda, Jestina Mukoko, Max Weiland, Victor Shale, Johanna Nilsson, Kondwani Chirambo, Robert Gerenge, Alexander Makulilo, Henry Chingapie, Dimpho Motsamai, Juvence Ramasy, Andrew Mushi, Celestino Sectucula, Lungile Mnisi and Catherine Boudet.
Click below to download the document: