MoU ECES-IEC-SSSA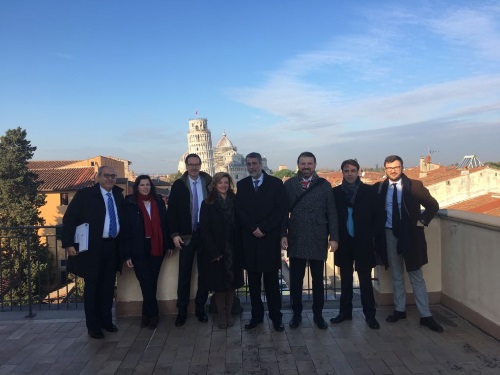 On 15th January 2018, the European Centre for Electoral Support (ECES), represented by the President Ms. Monica Frassoni; the Independent Election Commission (IEC) of Jordan represented by HE the Chairman Dr. Khalid Kalaldeh and the Sant'Anna School for Advanced Studies (SSSA), represented by the Rector Pierdomenico Perata, signed a trilateral Memorandum of Understanding (MoU) aimed to consolidate the collaboration and the synergies between the three organisations.
IEC, ECES and SSSA are key actors in the democratic and electoral community with global resonance. In particular, the IEC is the entity mandated to organise democratic elections in Jordan at all levels of government. ECES is a not for profit private foundation headquartered in Brussels with a global remit. ECES promotes sustainable democratic development through the provision of advisory services, operational support and management of electoral assistance projects in line with European values and the policies of the European Union (EU). SSSA is a public university that works in the field of applied science with an extensive and consolidated experience in Electoral Policy, Practice, Assistance and Studies including the Online Master in Electoral Policy and Administration.
Through this new partnership, ECES, IEC and SSSA commit to further enhance their roles and footprint with regards to electoral and democratic process and to collaborate on matters of joint interest, including but not limited to: electoral knowledge production, development of learning tools and strategies and implementation of capacity building initiatives, research, exchange of expertise and promotion of trainings and learning offers.
The trilateral collaboration has been developed within the context of the Programme "EU Support to Jordanian Democratic Institutions and Development, EU–JDID", funded by the EU and implemented by the ECES-led consortium. The programme aims at supporting Jordan's reform process towards consolidation of democracy and the promoting inclusiveness of national policy and decision-making processes. Within the context of this Programme and in particular with regards to the activities in support of the IEC (Component 2 " Electoral Assistance") ECES facilitated and supported exchange between the IEC and SSSA.
With this new partnership agreement, ECES, IEC and SSSA aim to promote accessible, innovative and customised electoral knowledge and capacity building activities in favour of the IEC Regional Electoral Training Center, which is meant to become a regional hub of electoral knowledge and capacity development in Jordan and beyond.
The creation of such a Centre would require activities at the intersection between capacitation, knowledge production and development of innovative tools. In this context, the partnership between ECES, IEC and SSSA will provide the ideal blend of practical experience and high-level professional expertise to promote successful initiatives and activities.
ECES, IEC and SSSA are looking forward to the next step of this ambitious and exciting collaboration aimed to meaningfully contribute to transparent, professional and credible electoral and democratic processes at national, regional and global level.