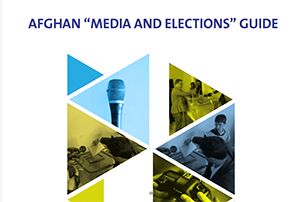 This guide provided journalists in Afghanistan with legal and practical information ahead of elections.
"Media and Elections Guide" published by ECES/PROSES and the Afghanistan's National Journalists Union (ANJU) being distributed countrywide to journalists ahead of 20 October Parliamentary elections
Within the framework of the European Union funded Project in Support of Enhanced Sustainability and Electoral Integrity (PROSES), Afghanistan, the European Center for Electoral Support' (ECES) in collaboration with the Afghanistan's National Journalists Union (ANJU), has developed a "Media and Elections Guide" for media stakeholders and journalists. The guide focuses on the 2018 Parliamentary elections and includes sections on facts and figures, the new legal framework from the 2016 electoral law, media regulations, the voting procedures, the media access to polling stations on election day, and specific security issues associated with media coverage of elections. 1000 copies of the "Media and Elections Guide" has been printed in Dari and Pashto, thereafter distributed in 23 provinces of Afghanistan. The soft copy versions of the guide in English, Dari and Pashto have also been shared with other electoral stakeholders and the international community, and is online on ECES (www.democracy-support.eu/afghanistan) and ANJU (www.anju.af) websites.

Download guide on the link below:
English: Guide
Pashto: Guide
Dari: Guide