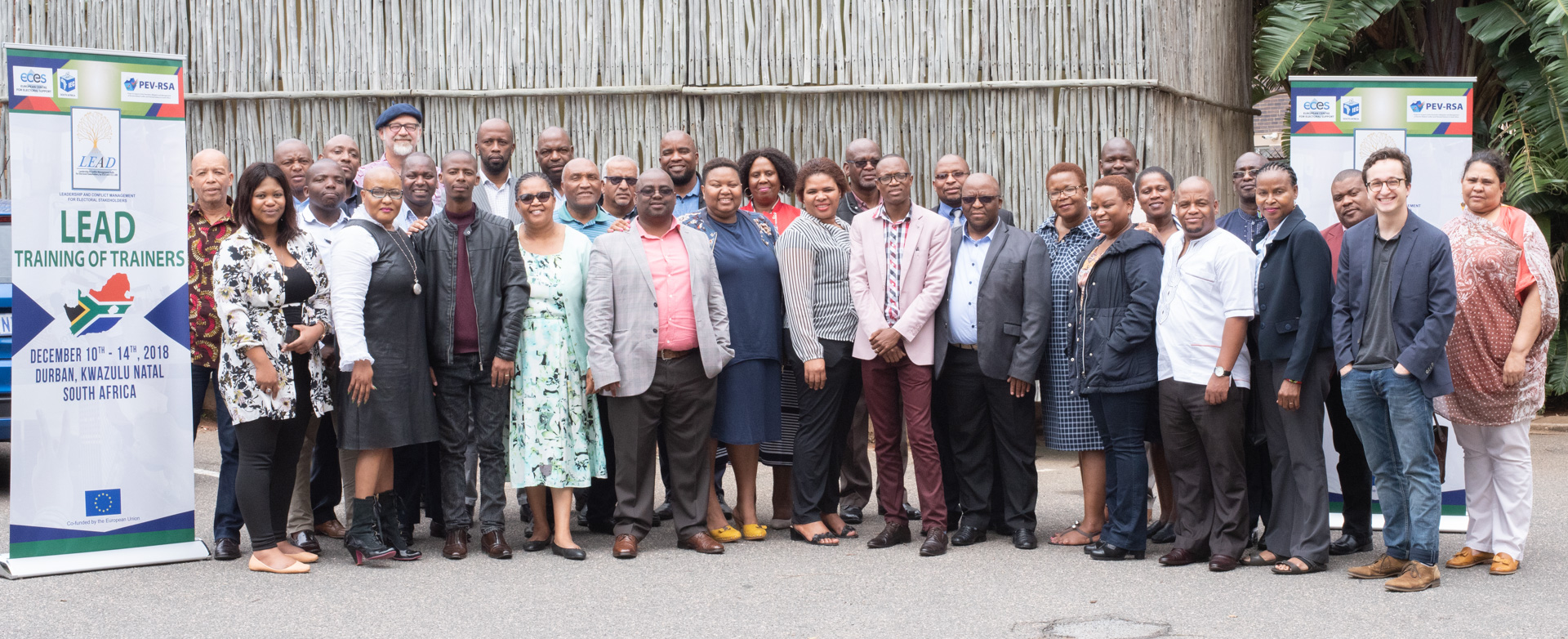 A Leadership and Conflict Management (LEAD) workshop is currently being held in Durban, South Africa from 10 of December until 14 December 2018. This 5-day LEAD training of trainers is part of part of the PEV-RSA national project, funded by the European Union. The PEV RSA project (www.democracy-support.eu/southafrica) is 24 months (2018/20) and is implemented by the European Centre for Electoral Support in partnership with the Independent Electoral Commission (IEC).
The opening ceremony has speeches from the dedicated Conflict Management Advisor, Zefanias Matsimbe, , Provincial Advisor for KwaZulu Natal in the PEV RSA project and IECs Manager for Election Operations Ntombifuthi Masinga, Both speakers express strong support for the PEV-RSA Project and how while KwaZulu Natal (KZN) comes with unique challenges, that also presents unique opportunities.
Participants are representatives of electoral stakeholders from across KZN. In attendance are also the district managers for the IEC in KZN, allowing a great chance to further develop the early warning network that is part of the PEV-RSA mission.
This is the fourth LEAD training, with trainings in Johannesburg, Centurion, and Cape Town already taking place. This training is part of the PEV RSA project's capacity building component.
The curriculum on Leadership and Dialogue was crafted by ECES in partnership with Centre for Creative Leadership, CCL. CCL is based the US and delivers high-end executive education for world leaders. Such trainings are usually very costly and require far more time than what one usually can afford. The partnership between CCL and ECES emerged to make leadership training accessible and affordable for electoral stakeholders.
Leadership training blended with dialogue techniques has so far proven to be a winning concept. Leadership, both for the individual and organizational level, are essential components of electoral processes.
The LEAD workshop in Durban is meant to explore various ways how exchange between stakeholders of difference of opinion, beliefs or ideologies can be carried out almost conflict-free by making use of technical skills.
In sum then, this workshop in Durban is a forum whereby members of the electoral stakeholders in the KZN can further develop skills in leadership and dialogue and make use of the very fact that participants come from different backgrounds to bring out as many perspectives are possible on how to succeed with dialogue.
The workshop is being facilitated by Zefanias Matsimbe, Senior Lecturer at Eduardo Mondiane University and a senior expert at EISA, Rindai Chipfunde-Vava, Host Director of the Election Support Network of Southern Africa and Executive Director of Zimbabwe Election Support Network, Steph Snel, Election Conflict Management Advisor, and lastly, Eldred de Klerk, also an Election Conflict Management Advisor for ECES.