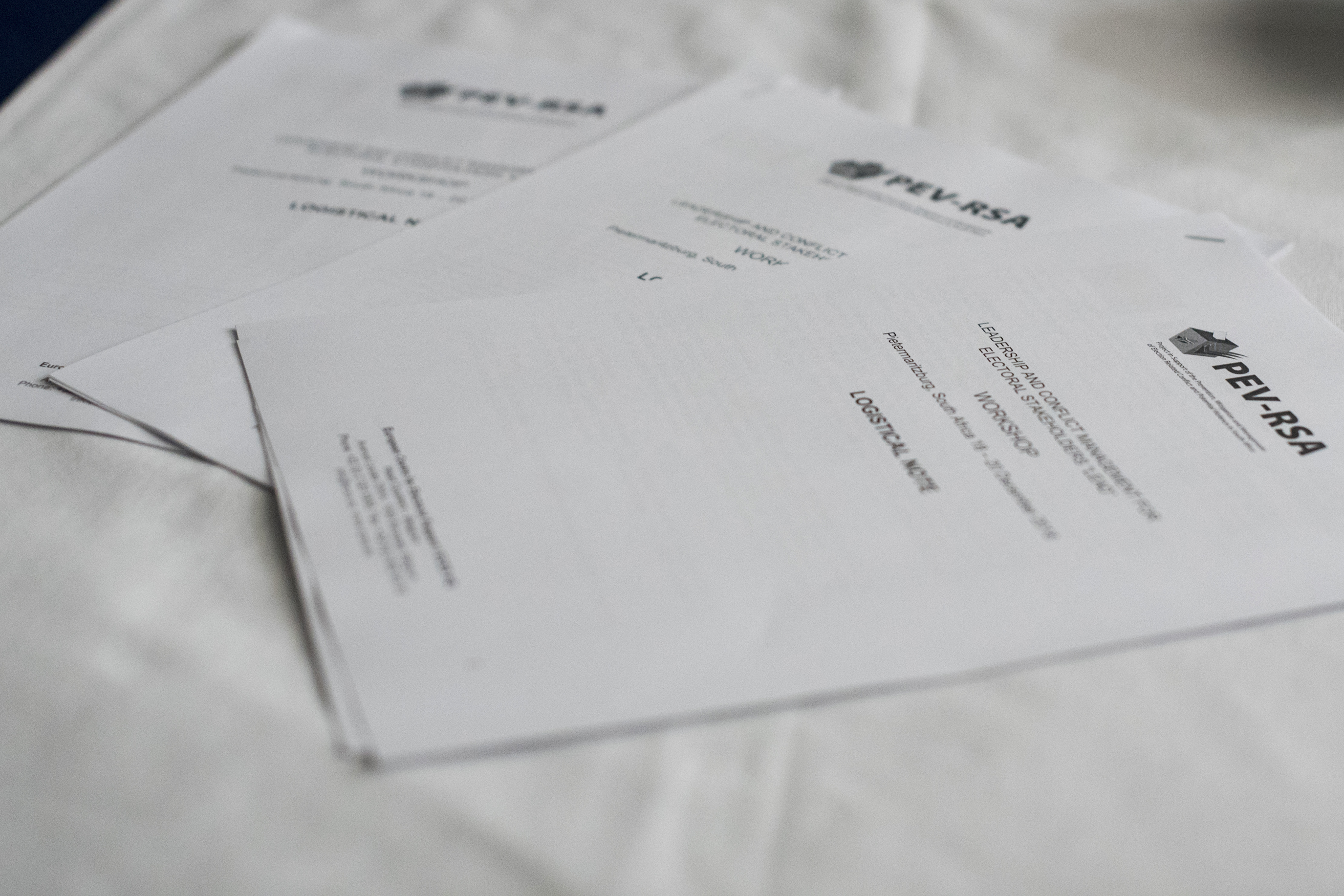 ECES is currently implementing four LEAD Workshops across KwaZulu Natal, South Africa, from the 18-20 of December. The workshops are taking place in Durban, Richard's Bay, Newcastle, and Pietermaritzburg. These 3 day workshops are part of the PEV-RSA national project, funded by the European Union. The PEV RSA project (www.democracy-support.eu/southafrica) is 24 months (2018/20) and is implemented by the European Centre for Electoral Support in partnership with the Independent Electoral Commission (IEC).
The Lead workshops are happening in the context of a LEAD Training of Trainers that took place in Durban the week before, from 10-14 of December. By creating a pool of LEAD facilitators from across the province, not to mention electoral landscape, PEV-RSA was able to create the foundation for not only these four trainings, but a strong a sustainable framework for future trainings in the province and abroad.
It should be further noted that this is the first time for an ECES project to run 4 concurrent LEAD trainings. despite over 800 kilometres between all the workshops, ECES is proud of our ability to ensure that the facilitation of the trainings is not impeded by any logistic matter, and this stands as a testament to the managerial competence of ECES.
Participants of the workshops come from all electoral stakeholders in KwaZulu Natal, with participants not only from the IEC but also traditional and religious leaders and local mediators and CSOs. This will allow the project to further strengthen the Early Warning system in place.
The curriculum on Leadership and Dialogue was crafted by ECES in partnership with Centre for Creative Leadership (CCL). CCL is based the US and delivers high-end executive education for world leaders. Such trainings are usually very costly and require far more time than what one usually can afford. The partnership between CCL and ECES emerged to make leadership training accessible and affordable for electoral stakeholders.
Leadership training blended with dialogue techniques has so far proven to be a winning concept. Leadership, both for the individual and organizational level, are essential components of electoral processes.
The LEAD workshops in KwaZulu Natal is meant to explore various ways how exchange between stakeholders of difference of opinion, beliefs or ideologies can be carried out almost conflict-free by making use of technical skills.
In sum then, this workshop in Kwazulunatal is a forum whereby members of the electoral stakeholders in the province can further develop skills in leadership and dialogue and make use of the very fact that participants come from different backgrounds to bring out as many perspectives are possible on how to succeed with dialogue.
The workshops are being led by Zefanias Matsimbe in Pietermaritzburg, Senior Lecturer at Eduardo Mondiane University and a senior expert at EISA, Rindai Chipfunde-Vava in Durban, Host Director of the Election Support Network of Southern Africa and Executive Director of Zimbabwe Election Support Network, Steph Snel in Richard's Bay, Election Conflict Management Advisor, and lastly, Eldred de Klerk in Newcastle, also an Election Conflict Management Advisor for ECES.