Jordan launching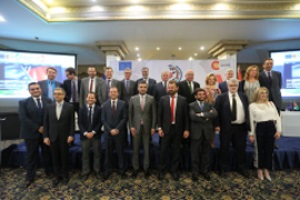 On the 24th of May 2017, the EU funded programme "Enhanced Support to Democracy Governance in Jordan" has been officially launched at the Amman Hall, Al Hussein Youth City with the presence of HE Andrea Matteo Fontana, Ambassador of the European Union to Jordan and HE Santiago Cabanas Ansorena, Ambassador of the Spain to Jordan.
Ambassadors' opening speeches stressed the importance of this multifaceted programme with regards to the consolidation of democratic values and principle in Jordan and the promotion of a tolerant and inclusive political life. They equally confirmed the willingness of the EU and its member's states to continue fostering relationships with Jordan and supporting the national democratic reform process.
High representatives from national institutions, HE Eng. Musa Maaytah, Minister of Political and Parliamentary Affairs; HE Dr Khalid Kalaldeh, Chairman of the Independent Electoral Commission; HE Mr Khamis Atieh, First Deputy Speaker/Acting Speaker of the House of Representatives, also contributed to the event by reaffirming the readiness and the commitment of Jordan institutions to continue working for deepening democracy and cementing rule of law.
Through the programme "Enhanced Support to Democracy Governance in Jordan", the EU aims at supporting Jordan in its political reform process towards consolidation of deep democracy and at promoting inclusiveness in policy and decision making processes, with a strong focus on women and youth.
The programme perfectly aligns with the EU Action Plan on Human Rights and Democracy 2015-2019, and the call to "strengthen long term planning and integrated deployment of all aspects of EU and Member State support to the electoral cycle, by exploring innovative aid delivery mechanisms".
It also reflect national priorities as illustrated by King Abdullah II ibn Al Hussein, in the two latest Discussion papers "Rule of law and civil state" and "Goals, achievements and conventions: pillars for deepening our democratic transition".
The programme, built upon previous EU-funded projects in these fields, will ensure continuity with past actions. Furthermore, it will also contribute to the follow up of the recommendations of the EU Election Observation Missions (EU EOMs) deployed in Jordan in 2013 and 2016.
The programme is composed of four different but interconnected components.
Three components (Parliamentary Support, Electoral Assistance and Support to the Political party System) are implemented by the consortium led by the European Centre for Electoral Support (ECES www.eces.eu) and composed of the European Partnership for Democracy(EPD www.epd.eu), Westminster Foundation for Democracy (WfD www.wfd.org), Netherlands Institute for Multiparty Democracy (NIMD www.nimd.org) and French Agency for Media Cooperation (CFI www.cfi.fr).
The fourth component of the programme (Support to the Civil Society Organisations) is implemented by the Spanish Cooperation Agency, AECID (www.aecid.es). The name of the project is QARARUNA.
The programme will span over the course of the next four years and it can be constantly followed on its website as well as on the dedicated Facebook page and Twitter accounts, which they will be available soon.