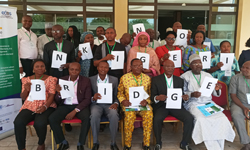 The European Centre for Electoral Support (ECES) with funding from the European Union supported the Independent National Electoral Commission to organise a 5-day workshop on Building Resources In Democracy Governance and election (BRIDGE) for public affairs officers of the Independent National Electoral commission (INEC) across the 36 states including the Federal Capital Territory (FCT). The BRIDGE modular workshop took place from the 23 – 27 July 2018 at the Chilla Luxury Suites, Kano, Kano State, Nigeria.
Declaring the workshop opened, INEC National Commissioner, Mallam Mohammed Haruna stated that, the broad objective of the training is to build and enhance the skills, capacities of INEC public affairs officers in projecting INEC in the public eyes as electoral management body with a world class reputation for conducting free, fair and credible elections adding that the principle guide in creating and sustaining the positive image is the INEC's communication policy which came into existence in 2013.
"After this five-day training, INEC public affairs officers will be equipped with the skills and attitude to effectively propagate the positive changes and activities that have taken place in the commission since 2015," said Muhammed Haruna.

Earlier in his address ECES Nigeria project director Mr. David Le Notre who was represented by ECES Electoral Administration Expert Mr. Manji Wilson revealed that, ECES promotes sustainable democratic development through the provision of advisory services, operational support and management of large projects in the electoral and democracy assistance field. Mr. David also said that the ECES will continue to work with the Commission in ensuring a sustained and improved Communication with its internal and external stakeholders in a bid to improve the capacity of its Public Affairs Officers (PAOs) to carry out their assignments diligently as well as ensuring that the image of the Commission is portrayed in a good light ahead of the 2019 General Elections.

#EU4DemocracyNG #electoralassistance