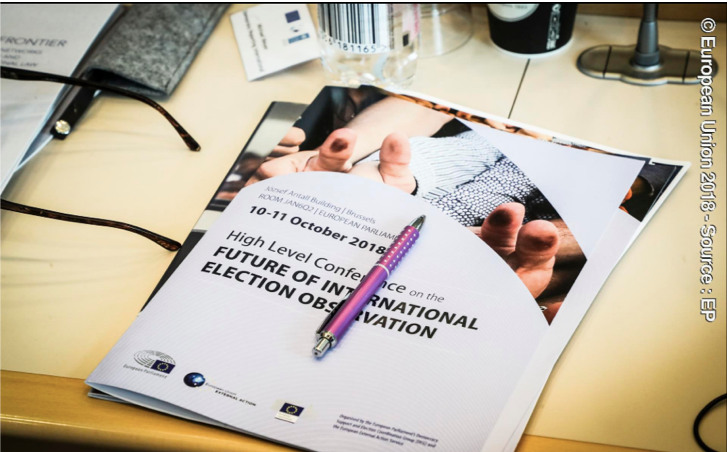 On the 10th and 11th October 2018, ECES participated in the High Level Conference on the Future of International Election Observation organised at the European Parliament by the European Parliament's Democracy Support and Election Coordination Group (DEG) and the European External Action Service (EEAS). Present at the conference were ECES Senior staff and members, along with Rindai Chipfunde-Vava, a Capacity Development Adivsor and Granville Abrahams, the Senior Manager of Electoral Matters at the IEC.
European electoral observation missions (EOMs), as recalled by the President of the European Parliament Antonio Tajani and the High Representative for Foreign Affairs and Security Policy Federica Mogherini, are a fundamental tool of the Union to affect the international scene and to support democracy and peace abroad. Today, however, EOMs face multiple challenges, such as the impact of new technologies and mounting violence in the electoral cycle.
During the conference, a few major themes and ideas were expounded upon. Serious questions were raised about the role of ICTs in promoting trust and accountability in the collection of both votes and the electorate's information. In fact, they can have positive consequences to the extent that they give everyone the opportunity to organise information campaigns or exchange opinions, but on the other hand they increase the risk of fake news and campaigns of hatred on the web.
Another major discussion at the conference was how election observation and assistance mission can strengthen their cooperation in order to prevent and mitigate electoral violence, especially in those countries where losing an election means losing privileges, access to resources and even physical security, and where the rejection of electoral results may conduce to clashes and violence. Participants discussed how EOMs can play a greater role in conflict prevention, considering their short-term presence in the country and the independent nature of their mandate.
Fittingly for a conference that brought in leaders from across the globe, an emphasis was put on increasing cooperation across groups in order to implement strategic activities and to improve the effectiveness of joint actions. Panelists and participants tried to identify the strengths and weaknesses of the current forms of EAU-EU-UN cooperation, and of the current methodologies for election observation (EU/AU). Particular attention was also paid to the need to strengthen the existing collaboration with local civil society in the countries where observers are sent.
This High-Level Conference was of great relevance for ECES. As part of a consortium of partners that implements the EU funded project EODS, ECES helps to train and build the capacity of EU observers before their missions. This conference was a great chance to learn from implementers around the world, as well as past members of EOMs. Furthermore, the themes of accountability, violence prevention, and cooperation are all core principles of how ECES operates.
ECES would like to thank our partners in the European Parliament and EEAS and look forward to future cooperation in the field of electoral observation.