ECES @ EU DEV DAYS 17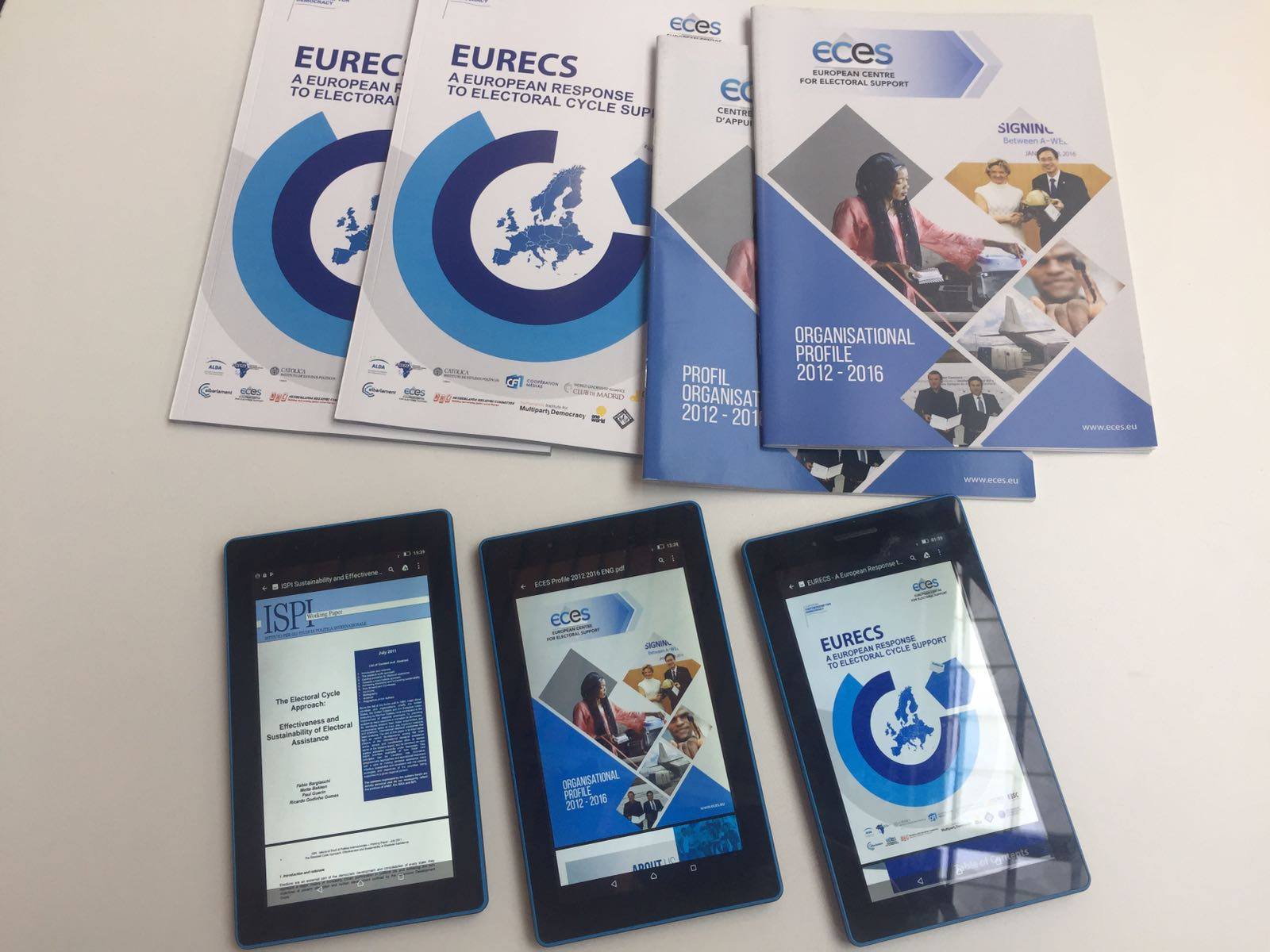 During the European Development Days 2017 that took place in Tour&Taxis in Brussels on the 7th and 8th of June 2017, the European Centre for Electoral Support ECES (www.eces.eu) and the European Partnership for Democracy EPD (www.epd.eu) were present at the EDD Village at stand N°69. The stand became a hub for exchange, allowing ECES and EPD to present their activities and their future strategies and to receive some constructive feedbacks on the work done so far, and was visited by colleagues and a broad range of professionals from the international cooperation sector and the EU institutions. The EDD17 event has been the occasion for ECES to build bridges and create new synergies with like-minded organisation from Europe, Africa, Latin America and Asia.
On the first day of EDD17, the President of ECES, Monica Frassoni, and the Director of The Center for Electoral Promotion and Assistance (CAPEL), Jose Thomson, signed a Memorandum of Understanding between the two organizations, ensuring closer cooperation and coordination in electoral support within Latin America, North America, and the Caribbean regions. Please, click here to learn more about the new partnership between ECES and CAPEL.
In particular, ECES' presence at EDD focused on the "The Potential of EU funded Electoral Assistance for the Prevention of Election Related Conflict and Violence: Lessons from the Southern African Region". On the second and final day of EDD17, ECES pre-launched the handbook on election related violence within the Southern Africa region. The handbook is the result of the research component of the project PEV SADC (Preventing Electoral Conflict in the SADC region www.pevsadc.eu ) implemented by ECES since February 2013 and funded at 75% by the EU and 25% by ECES, comprising case studies from the 14 countries, which make up SADC. This event benefited from the presence of ECES expert Rindai Chipfunde Vava, Director of the Zimbabwe Election Support Network (ZESN) and Host Director of the Southern African Election Support Network (ESN-SA), ECES South Africa expert Dimpho Motsamai, ECES Mozambique expert Johanna Nilsson and the research coordinator and SADC expert, Thibaud Kurtz.
The handbook serves as a key guide towards understanding Electoral Related Violence (ERV) within the region. By analyzing the drivers and motivations of ERV within Southern Africa, the PEV SADC handbook provides relevant, comprehensive, and hands-on advice to CSOs combatting ERV. Based on capacity assessment exercises, the PEV SADC handbook not only broadens the definition of ERV to make it more inclusive to all stakeholders, but also has country cases as well as cross country case studies. It is an invaluable tool for any CSO which wishes to engage in stopping ERV within the SADC region.
The official launch on the handbook will take place during the second week of July, stay tuned on our website and social medias in order to receive updates regarding the official launch and to eventually download a copy of the handbook.