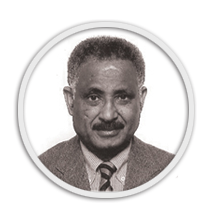 Ambassador Andebrhan Welde Giorgis is a Board Member at ECES. Andebrhan is a research fellow at the Vrije Universiteit Brussel (VUB) and an independent expert on democratic governance, preventive diplomacy, conflict prevention and resolution, and peace and security issues. He holds B.Sc. and MBA degrees from the University of Colorado (USA) and pursued doctoral studies at Harvard University.


A veteran of Eritrea's war of independence, he participated in the preparation of the EU strategy on the Horn of Africa and served as International Crisis Group (ICG)'s Senior Advisor on Africa; Eritrea's ambassador to the EU and seven Member States and Permanent Representative to UNESCO and the IMO; Advisor to the President of the DR Congo and Special Envoy to the Great Lakes Region; Commissioner for Coordination with the UN Peacekeeping Mission in Eritrea and Ethiopia; Governor of the Bank of Eritrea; President of the University of Asmara; and member of the Eritrean National Assembly.


Andebrhan has also served as Vice-President and Rapporteur-General for the African, Caribbean and Pacific Group of States and the EU Joint Parliamentary Assembly (ACP-EU JPA) and participated in ACP-EU JPA missions to several conflict situations.


Besides holding senior positions in government and international diplomacy, Andebrhan has extensive experience in negotiating the Economic Partnership Agreements (EPAs) between the Eastern and Southern Africa (ESA) regions and the EU, such as the implementation of the peace process between Eritrea and Ethiopia, the arbitration agreement between Eritrea and Yemen, and numerous ACP-EU political, economic and trade negotiations at ambassadorial, ministerial, parliamentary and summit levels. He has published several articles and studies in the fields of international relations and democratic development in Africa, one of which is titled: Nation Building, State Construction and Development in Africa - The Case of Eritrea (2010).